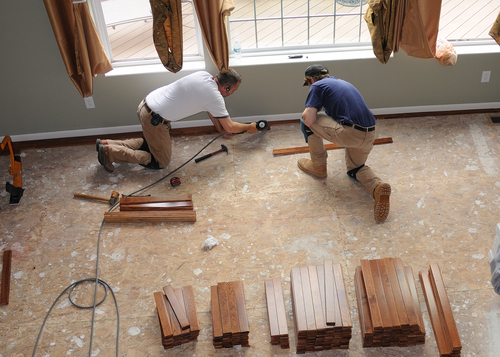 If you're hoping to bring a high-quality, beautiful and natural design element into your new or existing home, you should consider installing a hardwood floor. Dunbar of Duluth, Inc. is the premier provider of hardwood floor installation in Duluth, MN.
You can enhance your living space and provide yourself and your guests with an engaging, stunning space to spend your time. Installing new flooring is an excellent way to make a dramatic improvement in the quality and value of your existing home.
Installation Services
If you are looking for an expert in wood floor installation in Duluth, MN, look no further than Dunbar of Duluth, Inc.! We are proud to provide our clients with a wide range of flooring installation services, including:
Wood floor installation
We can install a wide range of wood flooring options! We are capable of placing pre-finished or traditional wood flooring in your home. Traditional wood flooring is installed then sanded and finished in place. If you would like to learn more about installing wood flooring at your home, reach out to us for a free estimate!
Hardwood floor installation
If you're looking for a dependable source of hardwood flooring installation, look no further than Dunbar of Duluth, Inc.! We can assist you with selecting and installing a high-quality hardwood flooring solution that meets your needs and elevates the value of your home.
Floor installation
Dunbar of Duluth, Inc. may be able to assist you with other floor installation services as well. Reach out to our highly qualified expert team members to learn more about our full range of service offerings, and to see if we're the right flooring contractors for you.
Install New Flooring
If you're ready to take the next step and elevate your living space with an elegant hardwood floor installation, reach out to Dunbar of Duluth, Inc. today! Call one of our helpful and dedicated service associates today at 218-340-8552.