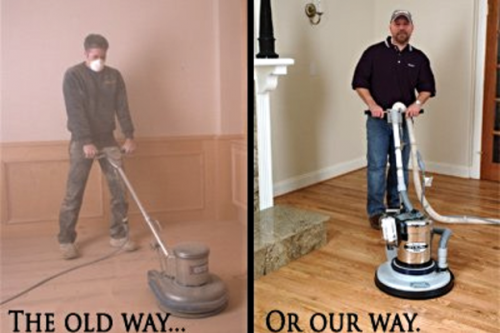 Once you have installed a beautiful, natural hardwood floor in your new home, you have to ensure that it is properly cared for and maintained! Thankfully, Dunbar of Duluth, Inc. offers a wide range of repair and maintenance offerings for your wood flooring in Duluth, MN.
We use advanced methods to ensure that all of our services are minimally invasive to each of our clients. You can trust Dunbar of Duluth to consistently place your interests first! We are proud to be a community and customer-oriented company.
Hardwood Floor Care
Dunbar of Duluth, Inc. offers a wide range of hardwood floor care options that can help you keep your flooring looking great throughout the year. We offer a wide range of services that you can use to make the most of your hardwood floors, including:

Dust containment
We are proud to use a specialized sanding system that ensures a safe and healthy atmosphere while we are installing, repairing or refinishing your floor. Our advanced dust containment method allows us to deliver a more satisfying client experience. We always leave our worksites cleaner than we found them!
Hardwood floor repairing
Dunbar of Duluth, Inc. can assist you with hardwood floor repairs in Duluth, MN. We are proud to offer a wide range of repair services, including addressing nicks and scratches as well as filling in used heating vents or other vacant spaces.
After a floor installation or restoration, we will provide you with a series of helpful hints and tips to maximize the lifespan of your new flooring. Our service representatives can provide you with details on how often to sweep and remove dust from the new polyurethane coating on your hardwood floor.
Hire Floor Care Experts
You can rely on Dunbar of Duluth, Inc. to meet all of your hardwood flooring repair and maintenance needs. If you would like assistance maintaining or cleaning your floor, reach out to us today at 218-340-8552!